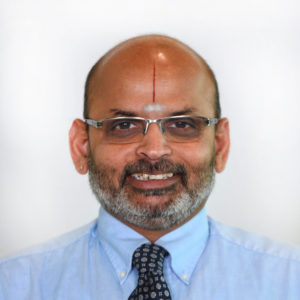 Puliyur S. MohanKumar
Professor
BVSc (DVM), Madras Veterinary College, India
PhD, Neuroendocrinology, Kansas State University
Postdoctoral, Neuroendocrinology, University of Kansas Medical Center
Bio
Dr. P. S. MohanKumar was born in Tamil Nadu, India. He received his veterinary degree from the Madras Veterinary College, Chennai, India. He went onto pursue a PhD degree in neuroendocrinology at Kansas State University following it with a stint of postdoctoral fellowship at University of Kansas Medical Center. After a brief period as an assistant professor at Kansas State University, he moved to Michigan State University, where he obtained his tenure and rose through the ranks to full professor. Dr. MohanKumar's research has been regularly supported by funding from the NIH, NSF and USDA. He serves on NIH study sections and reviews for peer-reviewed journals.
Apart from his interest in research, he has been involved in mentoring graduate students, postdoctoral fellows and young faculty members. Dr. MohanKumar has served as the Graduate Program Coordinator and has directed a NIH-funded T32 training grant. He has also served as the research director for the NIH-funded Building Interdisciplinary Research Collaborations in Women's Health (BIRCWH) program. For his research efforts, he received the Pfizer Research Excellence Award.
Dr. MohanKumar is also involved in teaching in the veterinary curriculum and has received a number of teaching awards including the Carl Norden Distinguished Teacher Award, SCVMA award for Excellence in Teaching, Merial Award for Innovation in Teaching, Faculty Recognition Award from Class of 2019 CVM UGA, etc.
In the Lab
In collaboration with Dr. Sheba MohanKumar, our laboratory (Neuroendocrine Research Laboratory) uses an integrative approach to investigate the neuroendocrine consequences of prenatal programming from birth to aging related to regulation of the hypothalamo-pituitary-adrenal (HPA) and the hypothalamo-pituitary-gonadal (HPG) axis, metabolic function and cardiovascular function and behavior. Our laboratory uses both whole animal as well as molecular approaches to investigate these questions. We use a number of standard and novel techniques including stereotaxic brain surgeries, in vivo push-pull perfusion of discrete areas of the brain, in vitro perfusion of hypothalamus, HPLC-EC, RIA, ELISAs, brain microdissection, radiotelemetry, in situ hybridization, immunohistochemistry, mixed neuronal glial cell cultures, RT-PCR, TaqMan real time RT-PCR, Western blotting, etc.
Our laboratory is also involved in developing techniques for imaging the brain to trace specific neurotransmitter pathways by using nanoparticles in combination with imaging modalities.
Research Interest
​Neuroendocrinology Reproductive Aging, Stress Axis and Metabolic Function
Neuroendocrine-Immune Interactions
Prenatal Programming and its Neuroendocrine Consequences
Neuroendocrine Effects of Exposure to Environmentally Relevant Chemicals
Links
Publications by Puliyur S. MohanKumar may be found at PubMed.