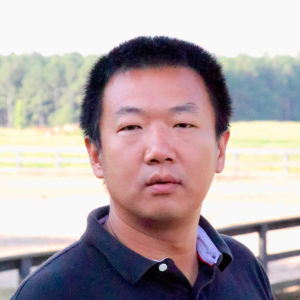 Sha Tao
Associate Professor
Ph.D. University of Florida, Gainesville, FL 2012
M.S. Henan University of Technology, Zhengzhou, China 2007
B.S. Henan University of Technology, Zhengzhou, China 2004
In the Lab
Environment and diseases affect dairy cows' production, reproduction, health, and overall welfare. In livestock industries, heat stress is a primary constraint to efficient animal agriculture and food security, leading to economic burdens to producers. Recent studies suggest that the reduced milk production alone by heat stress results in over $2 billion loss to US dairy industry. However, mechanisms that mediate the lower milk synthesis and impaired mammary health by heat stress are not fully understood. And there are needs to develop effective management, nutritional and pharmaceutical approaches to minimize the negative impacts of heat stress.
Our research aims to understand the impact of heat stress on tissue development, metabolic responses and the immune and inflammatory responses during diseases of dairy cows and calves. We are also interested in identifying effective nutritional management and supplements, and pharmaceutical methods to improve dairy cattle's performance and health during summer.
Research Interest
Stress
Lactation
Inflammation
Metabolism
Links
​Publications by Sha Tao may be found at PubMed.