Recruiting Graduate Students
Complete your research journey with us
The RBC is recruiting research and ILS graduate students
As a graduate student in the RBC, you will make discoveries that could change the world. You will engage with multiple research labs, including neuroscience, biomedical engineering, animal science, molecular and cell biology, and beyond. You will make a difference in the lives of others and the local and global community. When you graduate, you will capitalize on our large network, in the Atlanta area and beyond, to offer students real-world experiences through internships and cooperative work experiences.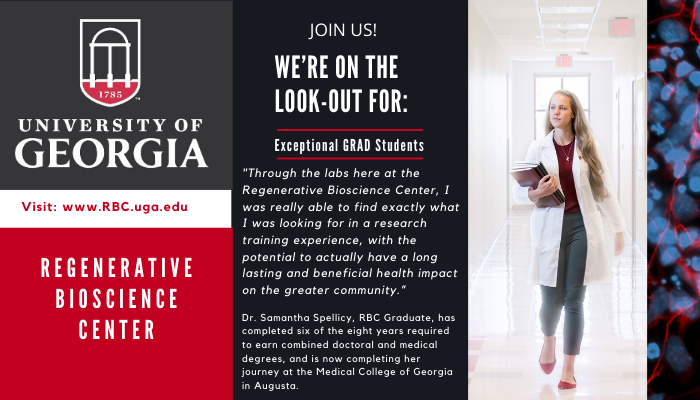 Integrated Life Sciences (ILS) at the University of Georgia
We recruit only the best and the brightest
The University of Georgia received a NICHE 2021 rating, #3 Best Colleges for Agricultural Sciences in America. Additionally, UGA has advanced to #15 in U.S. News & World Report's 2021 ranking of the best public universities in the nation. This marks the fifth consecutive year that UGA has placed in the Top 20, climbing from the No. 16 position last year.
There are many RBC faculty members currently seeking graduate students to participate in their ongoing research. Prospective students should review faculty profiles on their departmental websites to learn more about their specific research interests. Please complete our online form to give our faculty a better understanding of who you are and why you are applying.
Read more information about RBC core research.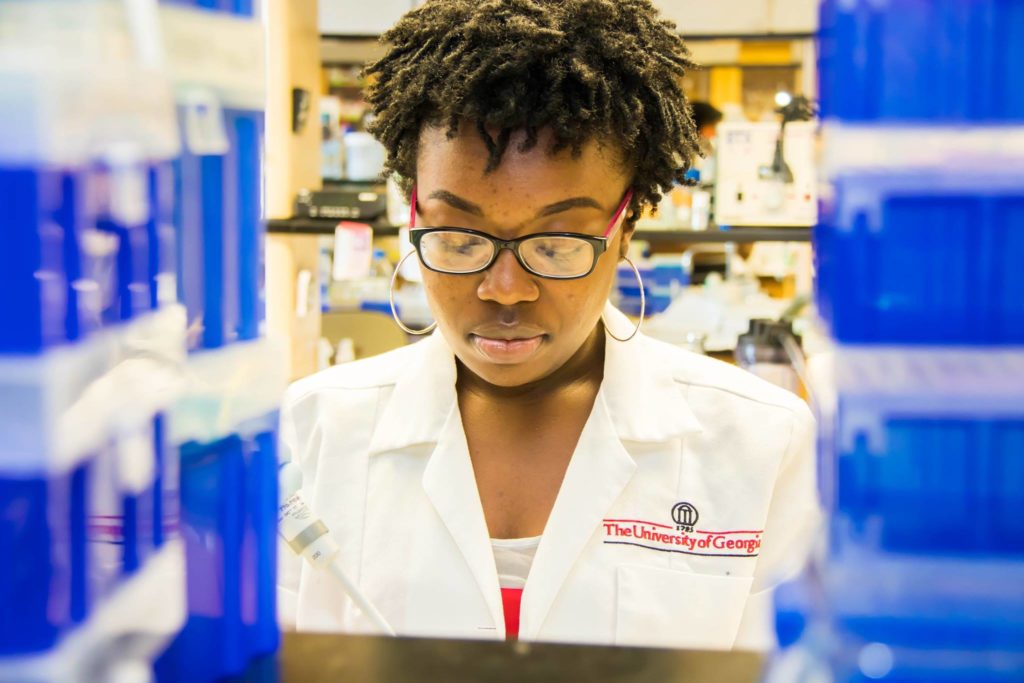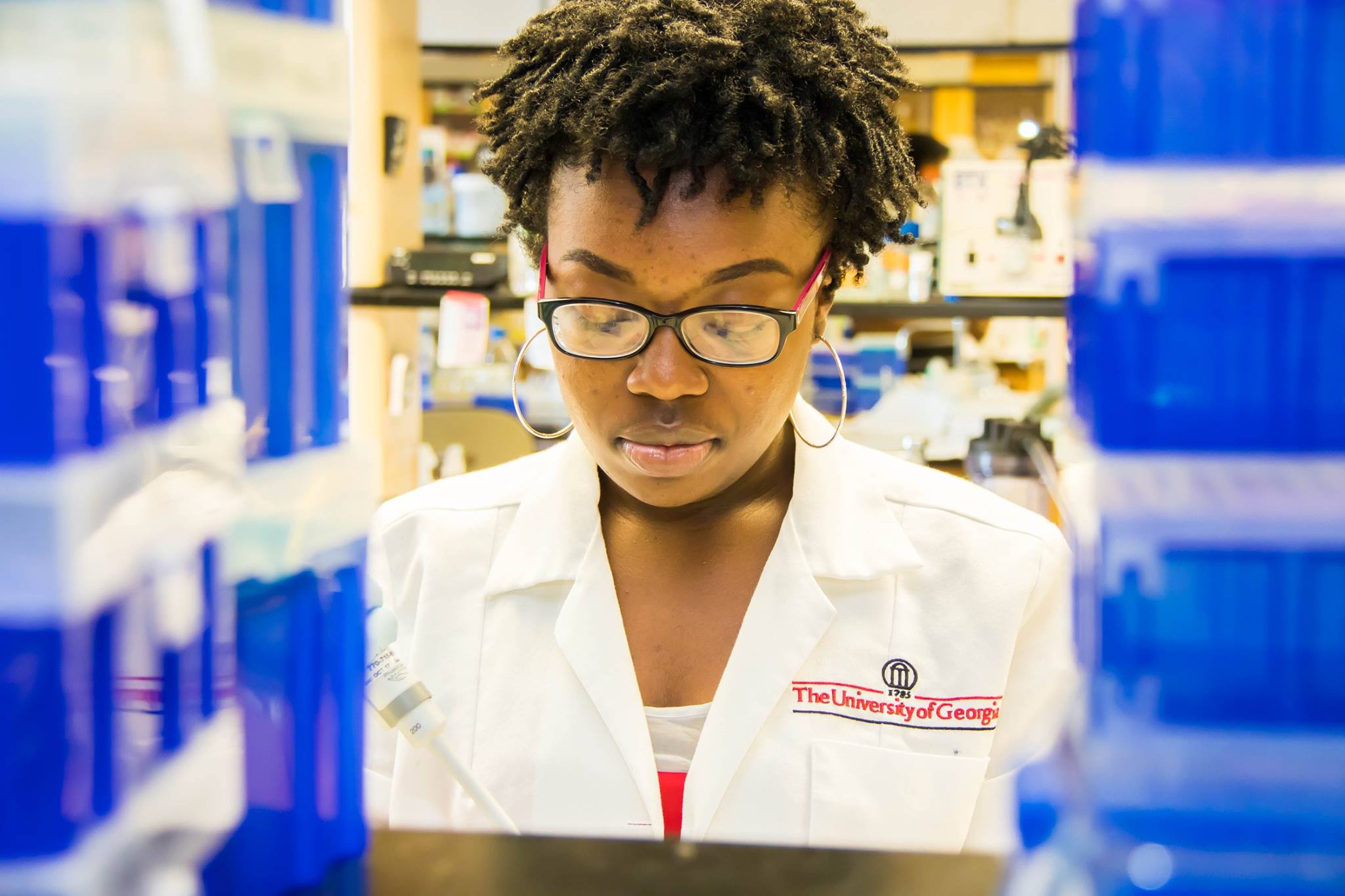 Find a lab
Hitesh Handa

HANDA
PhD. Associate Professor, RBC Mentor
Dr. Hitesh Handa is Associate Professor in the School of Chemical, Materials and Biomedical Engineering at the University of Georgia. After receiving his Ph.D. in Material Science and Engineering, Dr. Handa worked as a Development Engineer at Accord Biomaterials, MI where he developed nitric oxide (NO) generating polymer coatings and designed animal models and clinical studies. As a PI at Accord, he received several NIH-SBIR grants. In 2010, Dr. Handa joined the Department of Surgery at the University of Michigan as a Research Investigator where he also received a five-year K25 (Career Development Award) from NIH.
Dr. Handa's work is currently funded by NIH, CDC, Department of Veteran Affairs, US Army, Juvenile Diabetes Foundation, Geneva Foundation, and industrial grants. With his experience in biomolecular interactions, materials/surface science, polymeric coatings, blood-surface interactions and animal models, his goal is to bridge the gap between the engineers and clinical researchers in the field of biocompatible materials.
Research Interests: Area of focus is in translational research for development of medical device coatings, wound healing materials, therapeutic nanoparticles, and microfluidic artificial lungs. Dr. Handa's work in designing innovative materials and testing them in animal models has resulted in over 70 publications and 12 patent applications.
Visit Handa Lab
Email: hhanda@uga.edu
Lohitash Karumbaiah

KARUMBAIAH
PhD. Associate Professor, RBC Mentor
Dr. Karumbaiah directs the Translational Glycomaterials Laboratory, where his research is focused on the development of novel functional glycomaterials for nerve repair and neural interfacing applications. Prior to joining The University of Georgia, Dr. Karumbaiah was a senior research scientist in the Neurological Biomaterials and Cancer Therapeutics Laboratory, Department of Biomedical Engineering at Georgia Institute of Technology. Here he studied the nerve repulsive properties of scar associated sugars in nervous system injuries, and mechanisms of recording failure of chronically implanted intracortical recording electrodes. Dr. Karumbaiah has previously worked in product development and new product launch for Monsanto company, and has also served as a study director for a medical device company.
Research Interests: Defects in carbohydrate biosynthesis and alterations in carbohydrate composition, development of new carbohydrate-based biomaterials for spinal cord injuries, traumatic brain injuries, and neural interfacing applications.
Visit Karumbaiah Lab
Email: lohitash@uga.edu
Luke Mortensen

MORTENSEN
PhD. Assistant Professor, RBC Mentor
Dr. Mortensen holds a joint appointment with the UGA College of Agricultural and Environmental Sciences, department of animal and dairy science and UGA's School of Chemical, Materials, and Biomedical Engineering. Mortensen completed a postdoctoral fellowship at Harvard Medical School, where he developed a laser imaging technology that will allow the design of unique cell therapies for bone repair in disorders like HPP and osteogenesis imperfecta, genetic bone disorders that cause bones to break for no apparent cause.
Research Interests: Multiphoton microscopy, cellular therapeutics, optical imaging, Mesenchymal stem cells (MSCs).
Visit Mortensen Lab
Email: luke.mortensen@uga.edu
Rachel Roberts-Galbraith

ROBERTS-GALBRAITH
PhD. Assistant Professor, RBC Mentor
Dr. Roberts-Galbraith completed her doctoral training at Vanderbilt University. Next, she moved to the University of Illinois at Urbana-Champaign and switched gears from fission yeast to fissioning worms. In August 2017, Rachel launched her new laboratory in the Department of Cellular Biology at the University of Georgia. She is a member of the Developmental Biology Alliance, the Regenerative Bioscience Center, and the Biomedical & Health Sciences Institute, where she is affiliated with the Neuroscience Program. She accepts graduate students through the Integrated Life Sciences program.
Research Interests: Animal models of neural regeneration, neural diversity, glial biology, stem cell biology, and animal behavior
Franklin D. West

WEST
PhD. Associate Professor, RBC Mentor
Dr. West is a world leading expert in stem cell biology with a focus on the development of therapies for stroke and traumatic brain injury (TBI). His recent research has demonstrated how neural stem cells and their derivatives can reduce brain injury, lead to faster, and improved recovery in stroke and TBI. Dr. West was named one of the nation's top scholars under 40 by Georgia Trends and Diverse: Issues in Higher Education magazines and has been featured on NPR, CNN and FOX News. Dr. West received a bachelor of science in biology from Morehouse College and a doctorate in stem cell biology from the University of Georgia, where he now holds position as an associate professor of animal and dairy science. Dr. West was a MARC (Minority Access to Research Careers) U-Star Research Fellow and a David and Lucille Packard Research Fellow at Morehouse College.
Research Interests: Regenerative therapies to treat stroke and TBI.
Visit West Lab
Email: westf@uga.edu
Yao Yao

YAO
PhD. Assistant Professor, RBC Mentor
Dr. Yao received her Bachelor's degree in Bioengineering and Business Administration from Shanghai Jiao Tong University. After that, She was recommended for admission to graduate school at Chinese Academy of Sciences, where she earned her Ph.D. degree in Genetics under the supervision of Dr. Hai Huang. To expand the vision and link her research more directly to human health and daily life, she then joined Dr. Douglas Epstein's lab at University of Pennsylvania for her postdoctoral training. Yao relocated to University of Georgia as Assistant Research Scientist in 2017 under Dr. Steven Stice at Regenerative Bioscience Center and started her own lab as Assistant Professor in 2019..
Research Interests: In vivo delivery shuttle for genome engineering in biomedicine and agriculture; gene regulation, neuromuscular dystrophy, neurodegenerative disease, gene therapy and drug target screen.
Visit Yao Lab
Email: Yao.Yao@uga.edu
Nadja Zeltner

ZELTNER
PhD. Associate Professor, RBC Mentor
Dr. Zeltner was born and raised in Switzerland and received a masters degree in Zoology from the University of Zürich. She completed her PhD in Biomedical Sciences at Icahn School of Medicine at Mount Sinai in New York, working on the use of adeno-associated virus (AAV) for gene therapy. She then was a post-doctoral fellow and later a Research Associate in Dr. Lorenz Studer's lab at Memorial Sloan Kettering Cancer Center in New York, where she established disease models for Familial Dysautonomia using hPSCs. Dr. Zeltner joined UGA as a junior faculty in early 2018.
Research Interests: Utilizing stem cells, hPSCs, to generate cell types affected in disorders of the peripheral nervous system
Visit Zeltner Lab
Email: nadja.zeltner@uga.edu
Become a graduate mentor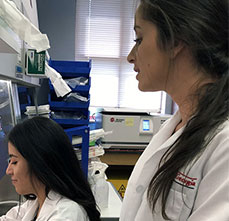 Become a graduate mentor like Kelly Scheulin, from the West lab; mentoring Karen Mancera, an undergraduate in the Marklein lab, on induced pluripotent stem cell (iPSC) culture. Two different labs collaborating together to address issues of heterogeneity and possibly eliminating the need to screen different donors or tissue sources.
Annual Research and Development Expenditures
$545.6 Million
in fiscal year 2022
55.8% Increase
since fiscal year 2013
Our graduate students are changing the world